25 Days of Christmas Blogging
When I declared that I was going to attempt 25 Days of Christmas Blogging, I stupidly said that every post would have a Christmas theme. Being the President, Chairman and CEO of this lofty endeavor, I believe I am entitled to some liberties. Meaning, the posts may be very loosely tied to Christmas. In fact, the only connection to the holly-day (see what I did there?) may be random outbursts of Christmas tree! And Silver Bells! And Reindeer Poop!
Got a problem with that? Well then you can just go have a Merry Christmas.
As I mentioned many posts ago, I joined a gym. Because there is nothing I enjoy more than sweating and grunting in a room full of strangers. Which, can I just say, is totally weird. I was there last night, trying not to look too constipated as I lifted
50
5 pound weights above my head (not that I
was
constipated – I am lady – I just imagine that's how I look when I'm getting my swell on) and I looked around at all the other people and thought,
this is weird. Creepy, even.
Most of them were men. Doing things and getting themselves into positions that should never ever be done in a public setting.
And mixed among them were the teeny boppers, who apparently confuse the gym with the beach. It took all my restraint not to yell, "Put some clothes on! There are men grunting in here."
This post had a point.
What was it?
Reindeer poop!
Oh, yes. Me at the gym. I am in competition with everyone. They have no idea they're competing with me, but honestly, what else am I supposed to do when they hop on the treadmill RIGHT NEXT TO ME when there are 20 other ones available? (So. Much. Rage. by the way. This is my dancing space, way over there is your dancing space!)
Christmas tree!
I wait until they've been running a few minutes before I bump up the speed on my treadmill. "You think you're running fast? Well watch this. I can run faster!"
And then I do it again. And again. And again. Until I am full on sprinting. Which makes me think
they
think I'm just doing it to show off so I maintain the sprint for many, many, many minutes. I can only imagine the look of constipation on my face, because I know that
if my feet don't keep up, even for just one
millisecond, I will face plant and be launched into the wall behind me by the rapidly moving belt. Which would totally suck, because I'm pretty sure if you face plant at the gym you lose the competition, and also life.
Holly Jolly Fat Man in a Red Suit!
Last night, the guy next to me started doing boxing moves- jabs and uppercuts- while he was running. "Oh yeah? Boxing while running? I can do that too. Watch this!"
But I waited a few minutes before punching it out because I didn't want to make it obvious that I am
such a loser
so awesome. Humility is important, you guys.
Before I had a chance to show him I could kick his ass in the ring, he began drumming. And I'm pretty sure he was doing the drum solo from Phil Collin's In The Air., because I hear that song really gets the testosterone flowing (and that's exactly what we need at the gym. more testosterone.)
I may be fiercely competitive, but I know when to admit defeat. Drumming to Phil Collins while running? I can't compete with that. You win. Someone get me a cupcake.
Silver Bells, Frosty the Snowman, Mistletoe, Santa Claus!
The end.
***
Don't forget! I'm hosting a Blogger Ornament Exchange
!
Send an ornament to another blogger, receive one from a mystery blogger. It's one part white elephant, one part secret santa, all parts AWESOME!
For more details read below or click here.
Send me an email to

SarcasmGoddess (at) ymail (dot)

com

. Be sure to include your name, blog name and address.
I will randomly match up participants. You will know who you are sending the ornament to (duh!) but you will not know who will be receiving an ornament from. So it's one part white elephant, one part secret santa, all parts AWESOME!
You can send any kind of ornament: wacky, tacky, silly or pretty. Just please try send something your recipient will actually want to hang it on their tree. (However, everyone should be prepared for the possibility that you may receive an ornament that doesn't quite fit your style/morals/life code, etc. The fun is in the exchange and the surprise of not knowing who your Secret Santa is and what you'll get!) You may want to consider sending something that represents your blog, BUT YOU DON'T HAVE TO. You can send any kind of ornament you want.
The deadline to participate is December 10th so that I have enough time to match everyone up and you guys have time to mail your ornaments before Christmas!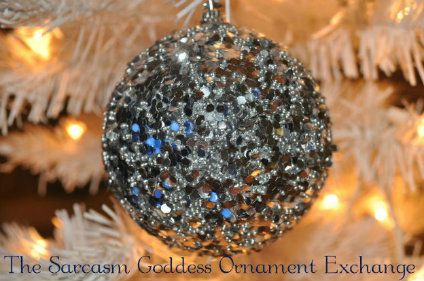 Comment gems!