25 Days of Christmas Blogging
Day 3
Since before Thanksgiving, I have been watching Christmas movies on the Hallmark Channel. A lot of movies. All day long.
In related news, I have not done laundry, washed dishes, made the bed, or gone grocery shopping since before Thanksgiving. I have watched many of the same movies twice. And thrice. Did you know there are endless ways to tell the exact same story? I didn't either. Until I met the Hallmark Channel. I've learned a lot from them. In fact, I would even venture to say that Everything I Need to Know About Christmas, I Learned From the Hallmark Channel:
1. Christmas is in constant danger of not existing. And by "not existing" I mean Santa doesn't get to deliver his presents to darling, deserving children. Screw time with family, singing carols, feelings of gratitude, lights, food, decorations, and everything else. Christmas doesn't exist without Santa.
2. Christmas is always saved in time. Thank goodness. Usually by a child, because adults are too jaded and cynical to believe in Santa and miracles. So instead of fixing the jolly fat man's sleigh, or helping him regain his memory, or finding his magical bag of toys, they work too much, ignore their families and write snarky posts about Christmas.
3. Kathy Ireland is a terrible actress, but she is pretty so we forgive her.
4. Brooke Burns is a mediocre actress and is pretty, so we like her. Even though she has horse teeth.
5. You want to fall in love at Christmas? Good news! You will! But with the wrong person. Muahahahaha. Falling in love is tough any time of year, but the relationship pranksters that lurk in the holly decked halls make it especially difficult.
6. What's worse, the person you do fall in love with is the very person who's trying to end the yuletide shenanigans you so dearly love. *gasp* Say it ain't so!
7. Oh it is so. But have no fear, your Holiday Hero is here! You know, the guy who follows you around all dopey-eyed and smiley-faced? The one who knows exactly what you want for Christmas - world peace and ALL THE PUPPIES!? The one who listens to you and is there for you and HAS BEEN RIGHT IN FRONT OF YOUR FACE THE WHOLE TIME? He's your Holiday Hero and he loves you and FYI you love him and hugs, smoochy face, and baby making. The end.
8. Ladies, having trouble finding the perfect gift for your sweetie this year? Tie? Cologne? Those jeans that make his tush look seven kinds of biteable? All those ideas suck. Train set. He wants a train set. Even if he says Superbowl tickets, or a trip to Bermuda, or front row seats at the Victoria's Secret fashion show, what he really wants is a chugachuga chugachuga choo choo.
9. However, make sure it comes with a box of tissues for him and a bottle of Vodka for you because there's a whole lot of emotional shit tied to that locomotive. Like, it was his mother's dying wish that he have it. Or, his father wasn't around when he was little so he would sit by the tree and watch the train go round and round, imagining Pappy as the Conductor and he as the whistle blower. *single tear sliding down his cheek*
10. Snow globes are the answers to all problems, not just at Christmas, but year round. Without one, you should just quit life because it will suck. Lost your Christmas spirit? Shake a snow globe, and surprise! It's back!. Can't find your Holiday Hero in a crowded shopping mall? Shake a snow globe, and surprise! There he is, looking whistfully at a train set! Didn't get that promotion? Shake a snow globe, and surprise! You suck at your job! But at least you have Christmas spirit!
11. Christmas is the perfect time to dupe your family members. Don't have a boyfriend? Tell them you do. Not getting married? Tell them you are. Just got fired? Tell them you got promoted. You're a Christian and your fake fiance is Jewish? Tell his parents that you're changing religions. It will make them so very happy... before it makes them so very sad. Bonus points for deceiving a dying relative into believing you are fulfilling their last wish. And remember, the more devastating the truth will be when it's finally set free, the more enjoyable the holiday experience for everyone...eventually.
12. And lastly, there are really only two ways one can feel about Christmas: cheerful and optimistic or jaded and asshattery. I must warn you, if you choose the latter, you will eventually end up cheerful and optimistic so you might as well start there and save a lot of people a lot of troubl
e.
Then again, if you did, what would I watch on t.v. 24 hours a day for the next three weeks?
***
Don't forget! I'm hosting a Blogger Ornament Exchange
!
Send an ornament to another blogger, receive one from a mystery blogger. It's one part white elephant, one part secret santa, all parts AWESOME!
For more details read below or click here.
Send me an email to

SarcasmGoddess (at) ymail (dot)

com

. Be sure to include your name, blog name and address.
I will randomly match up participants. You will know who you are sending the ornament to (duh!) but you will not know who will be receiving an ornament from. So it's one part white elephant, one part secret santa, all parts AWESOME!
You can send any kind of ornament: wacky, tacky, silly or pretty. Just please try send something your recipient will actually want to hang it on their tree. (However, everyone should be prepared for the possibility that you may receive an ornament that doesn't quite fit your style/morals/life code, etc. The fun is in the exchange and the surprise of not knowing who your Secret Santa is and what you'll get!) You may want to consider sending something that represents your blog, BUT YOU DON'T HAVE TO. You can send any kind of ornament you want.
The deadline to participate is December 10th so that I have enough time to match everyone up and you guys have time to mail your ornaments before Christmas!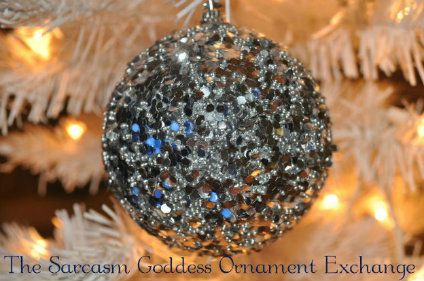 Comment gem!
I think I need to participate in this ornament exchange... but only if I can find a vagina or bacon ornament.